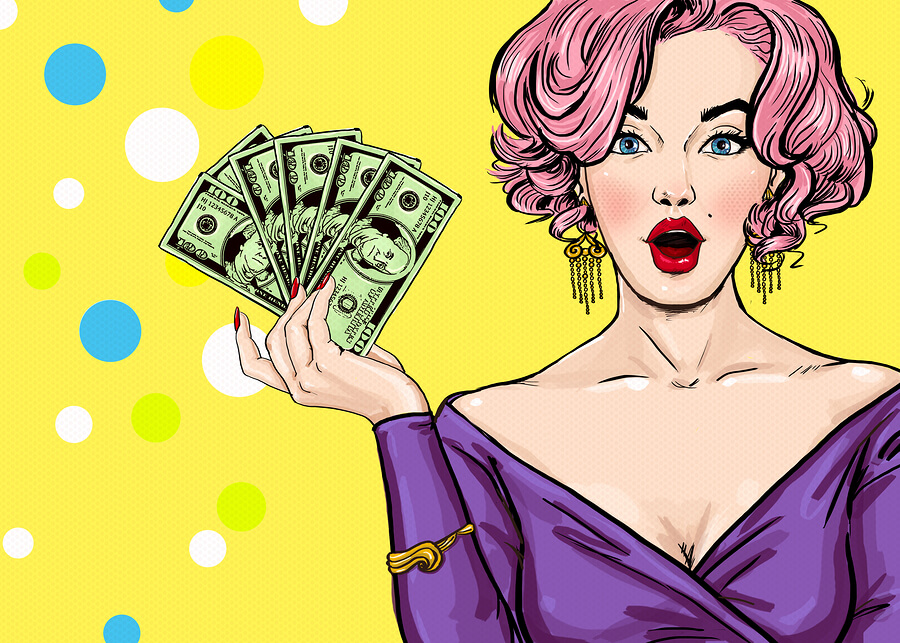 59 Ways To Earn Money Fast
In a pinch and need to know how to earn money fast? We have answers for you. Some of our ideas are conventional and others are a little on the crazy side. Rest assure though we will figure out a way for you to earn money fast!
Blood and plasma
Blood and plasma can easily be sold in any state in the US. The pay averages somewhere between 20 and 75 dollars per donation. Most places will allow you to donate once a week. For more information you can read this article about How Much You Get Paid To Donate Plasma and you may also locate plasma and blood donation centers here.
Rent your wifi to your neighbors
If you have more internet bandwidth than you know what to do with offer to share with your neighbor for a small fee. Label your SSID (the name of your WiFi network) something like "Visit apartment 207 for internet."  If you have fiber optic internet at 50 to 100 mbps you could possibly rent up to 15 people easily and still have lots of bandwidth. This is a great way to earn money fast.
If your wifi is weak at someone's apartment simply ask them if you can plug in a "Wifi Range Extender."
Sell on Craigslist
Craigslist is pretty straight forward and you can sell just about anything. Put your cell phone number on the ad and also say that you can text or call. This will help you sell the item much faster. Also be sure to post a good quality picture of the item and clean it up as best as possible. Check out these tips for selling on craigslist.
Pawn Shops
Pawn shops are ok but they will in general only off you 50% of what they can sell it for, sometimes less. Make sure that whatever you bring in is clean and as nice looking as possible. Check out these 5 tips for selling at a pawn shop so you get the best price.
Ebay
Ebay is great for selling something that is unique or is hard to sell at a pawnshop or on craigslist. You can also list it for next to nothing and let people bid on it to ensure you will get the most money as possible. Here are some great tips for selling on eBay.
Facebook
Have something to sell? Post it to your facebook page. It is free and worth a shot! You can also search Facebook for the term "buy, sell or trade (your cities name here)." A lot buy, sell or trade facebook pages are popping up.
Scrap metal
Have any scrap aluminum, copper or large amounts of steel? Aluminum and copper are very valuable metals and can be sold for a good amount of money. Look at current scrap metal prices here.
Gold. platinum, palladium & silver jewelry
With silver and gold prices being so high currently it is a great time to sell even tiny amounts of precious metals. You can check current precious metal prices here.
Sell your Hair
Selling your hair, particularly if it is long can fetch you $300 to $2,000 in cash. This is all depended on length, length and hair health. Learn more here about selling your hair or use the hair price calculator.
Rent or sell your parking spot
Have a parking spot that you rent near your work, apartment or downtown area? Try renting it out to someone that needs it on craigslist or sell it here.
Rent out a room
Have extra space in your house or apartment try renting to a roommate on craigslist or try roomates.com.
Etsy
Are good at a craft or have something unique that you make? Try selling it on Etsy, the internet's largest marketplace for handcrafted goods and clothing.
Yard sale
Have a old fashioned yard sale. Make sure that you advertise on craigslist and other free or cheap outlets. Gab a few signs and make sure that you emphasize how cheap everything is. You may also want to list all items that will be for sale. This is a cheap and easy way to earn money fast with little effort.
Sell course notes on Notesale
Have notes left over from a college courses? Sell them on notesale.com
Recycle your old cell phone
You can earn anywhere from $40 to $300 selling you phone even if it does not work. Companies harvest parts from them, remove valuable metals and also refurbish broken phones to resell. Find out where you can sell your cell phone instantly for cash.
Sell textbooks
You can instantly sell your textbooks through places like Chegg, Book Scouter and Amazon.
Sell DVD's and games
You can also venture out and sell your DVD's and Playstation/Xbox games on craigslist or through an online buyer like Glyde or Cash For Gamers.
Old rare coin collections
Do not sell any old coins or collections online. You need to go to a reputable coin dealer to have the coin graded and sold. Condition has everything to do with how much the coin is worth. Remember to NEVER clean a coin or you will destroy the value!!!! You can find coin dealers here.
Exchange foreign currency
It is not rare for people to have or find foreign currency. Most people are simply just throw it to the side and think they can't do anything with it. Chances are there is a location near you like Travelex that will exchange your currency into US Dollars.
Easy to get online jobs that pay fast!
Freelance jobs – Writing, data entry, creative and much more
Website Tester – Legit and easy money
Website tester jobs are easy to get and pay between 8 and 15 dollars per test. Each test generally lasts about 15 to 25 minutes. Simply sign up, take a test and then wait for assignments. Each company is very similar. The downside to doing this is that you will only average about 1 to 5 assignments per week from any given company, sometimes less or more. If you need more cash than that then sign up with multiple companies.
Here are reputable website tester companies that hire regularly:
Internet Search Jobs – High paying but takes more effort
Internet search jobs are high paying but take a lot more effort than other online jobs. The pay averages between 14 and 17 dollars per hour. Your basic job function will be to analyze SERP's (Search Engine Result Pages) for relevance to assigned keywords.
Here are highly reputable leaders in search jobs:
Virtual Call centers
These are part time jobs that can earn money fast and average about 20 hours a week or more and pay between 7.50 – 12.00 dollars per hour. They are all very legit companies but will charge you for a background check. This is common practice and will be the last step in the employment process.
Gigs – Easy to get on demand jobs
Find Money in places you haven't thought of!
No magic bullets here but decent options to earn money fast.
Go Fund Me
Go Fund Me is a crowdsourcing platform that allows people to donate money to you or your family. Be honest about the situation you are in and use social media to spread the word about your cause or need.
Roll up spare change
Pretty straightforward. Check your couch, car and the junk drawer!
Get a deposit back from your cell phone or utility company
Many companies have you make a security deposit and often times they do not give it back without you asking for it. Call them and get it back!
Cancel your cable
You'll live I promise.
Cancel Subscriptions
Many of us have monthly subscriptions like netflix that are automatically charged to your bank or credit cards and never think about it. Look over your statements and cut out what you don't need.
Return Things
Bout something that you can still return? Head back to the store and return it for cash or a gift card!
Borrow money – Short term loans
ese are not the best options but will earn money fast if you are in a pinch.
Payday Loans
Not the best option but if you have to have the cash now then you can borrow against your paycheck.
Apply for a credit card
Have poor credit or no credit? Check out these credit card companies that offer high risk credit cards.
Get second mortgage
This is never a good thing but sometimes you have to do what you have to do. Only borrow the minimum that you need!
Loan from family or friend
It's an idea… that's about it.