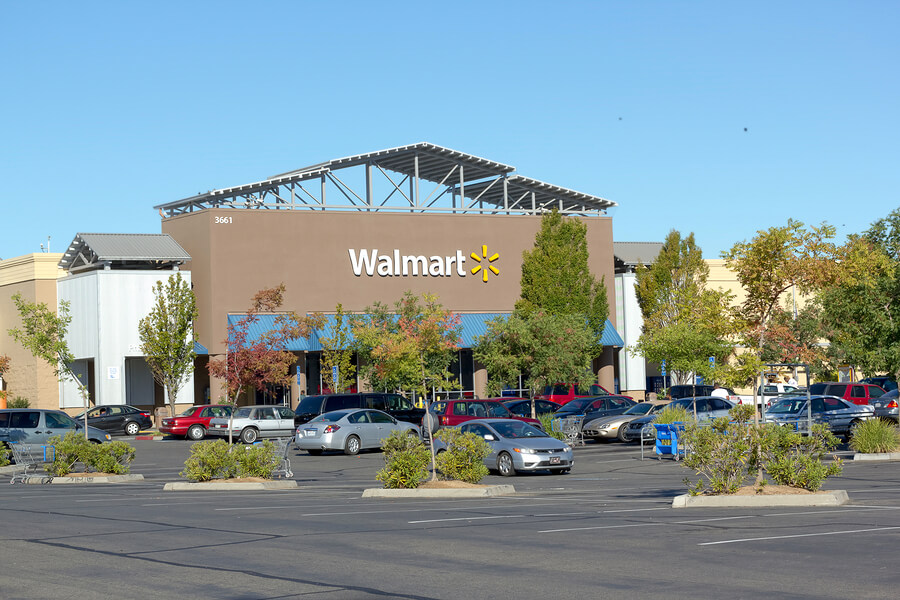 Walmart is the United States largest employer with over 2.2 million people employed by them at Sam's Club and Walmart retail stores. The question "Does Walmart Hire Felons" often comes up among felons seeking jobs.
Does Walmart Hire Felons? Answers Here!
The Short Answer: Yes, Walmart will hire felons but this does not mean that they will hire anyone with a felony. Felons with violent and/or theft related convictions will have a much harder time finding employment at Walmart though.
When it comes to Walmart we have found that some felons are able to find jobs as store associates and night time stockers. Walmart evaluates each felons background individually. The person(s) that interviews you will already know your background because you must disclose all information regarding your criminal background convictions and/or felonies on your application.
It is in your best interest to be 100 percent honest on your application because walmart will, 100% of the time run a criminal background check on every applicant no matter the position. In addition to the background check you will have to submit to a drug test either by urine and/or hair.
Walmart will accept some felonies depending on several factors such as:
What the conviction was for and the circumstances surrounding it
How long ago the felony was committed
What skills you have
Your experience
The state you live in
Help For Felons has found that most retail companies including Walmart will not hire sex offenders or felonies that are considered violent. Theft and/or forgery convictions may also reject you from being employed by Walmart and most other retailers. If you do not have a felony conviction for the above mentioned things then you have a chance of Walmart hiring you even though you are a felon.
Background Check Limits
It is important to understand that some states have laws regarding how far back a criminal background check can go. Here are the laws.
Twelve states do not allow any felony conviction information older than seven years to be reported.
California
Colorado*
Kansas*
Maryland*
Massachusetts
Montana
Nevada
New Hampshire*
New York *
Texas *
Washington*
(* exceptions based on pay/salary)
Some states will not report court cases where you were found NOT guilty: Hawaii, Indiana, Kentucky, Massachusetts, Alaska, California, New York and Michigan.
These states will report unlimited numbers of years back of felony convictions and also report NOT guilty verdicts: Mississippi, Missouri, Nebraska, New Jersey, North Carolina, North Dakota, Ohio, Oregon, Rhode Island, Alabama, Arizona, Arkansas, Connecticut, Delaware, DC, Florida, Idaho, Indiana, Iowa, Louisiana, Maine, South Carolina, Tennessee, Utah, Vermont, Virginia, West Virginia, Wisconsin, and Wyoming.
The Hiring Process at Walmart
We wanted to provide you with a brief overview of how Walmart's hiring process works.
1) Walmart only accepts applications that are filled out online. You may fill out the application on their online hiring center. If you do not have internet access you can go to any walmart store and fill out an application on their computer kiosk.
2) After filling out the application you will take a simple assessment test with about 65 questions on it. The better you do the better chances you have of being hired.
3) If your application is accepted then you will receive a call to interview.  There will be three people interviewing you at the same time.
4) If you have passed your first interview then you will come in for a second interview. After completing the second interview they will run your background test and send you for your drug test.
5) The last step is orientation which lasts three days. At this point you are officially hired by Walmart.
If you make it to the second interview and were 100% honest on your application about having a felony in your background then you will most likely get the job. As long as your background check matches what felony or felonies you put on your application then you should be okay.
Tips for applying to walmart with a felony
Here are a few tips to better your chances of getting an interview:
Have open availability each day of the week
Be open to working in any department
Be 100% honest about any felonies
Explain the circumstances around your felony if asked
As with a lot of employers walmart will hire felons but it all depends on your honesty, type of felony and how long ago the felony was committed. Looking for more information about jobs for felons?